Das Team der Click on the Mountain Foto Contests präsentiert die 4 Teams, die nächste Woche das Gebiet um Courmayeur unsicher machen werden. Vom 25. Februar bis 02. März werden sich Teams, bestehend  aus einem Freeskier, einem Snowboarder, einem Local Skier oder Boarder und einem Fotografen um die besten Shots battlen.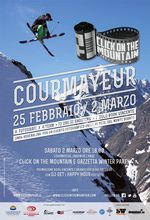 Die viert Teams führen Roman Lachner, der Chef Redakteur unseres Skiing Mag´s, Richard Felderer, Louis Garnier und Allesandro Belluscio an. Lassen wir uns doch mal die Teams von den Veranstaltern vorstellen:
(Wir hoffen ihr kommt klar mit dem Englisch)
TEAM ROMAN LACHNER
Photographer: Roman Lachner, Chief Editor and photographer of the famous German magazine skiing, has honed his skills in urban environments, freeride areas and on the road, all around the world, searching the powder we all love. This is Roman's first appearance at COTM. website: http://www.romanlachner.com/
Skier: Teddy Berr, born in Colorado and raised in Germany built his international fame with appearances in several Aestivation movies over the years. Skiing straight-lines on big mountains and dropping impossible cliffs, one of the many highlights of Teddy's career is his 50 meters naked frontflip at the 2010 Nine Knights event.
Video: http://mpora.de/videos/o3zbR2Ii9
Skier: Dennis Ehlert, German freerider from Munich, well known around the German scene, he launched to international stardom with his appearance in the movie Lifelong by Aestivation. Backed up with cameo appearances in the webisodes of the Legs Of Steel movie producers. Video:
http://www.youtube.com/watch?v=jZiYdsWY3b4
Local rider: Giacomo Rey, snowboard instructor from Courmayeur, with a great experience despite his young age, is one of the local athletes selected to participate in the competition.
TEAM RICHARD FELDERER
Photographer: Richard Felderer was Chief Editor of the Italian magazine OnBoard Italy for quite a few years. Riky has always alternated his desk with the powder fields. A photographer by trade, he recently started an editorial project – Soul Rider – and searches new challenges such as expeditioning at Baffin Island. This is Riky's second participation in COTM.
website: http://rikyfelderer.wordpress.com/

Skier: Giuliano Bordoni. Growing up in the Alta Valtellina area in Italy, he got to know the mountains exploring the backcountry of his home resort since he was a child. The passion for mountains, skiing and climbing made choosing the career as a Professional Mountain Guide a simple step. Recently he started a project about avalanche awareness and snow education. An author of mountaineering books, he has even managed numerous different first descents in the Alps.

website: http://www.giulianobordoni.it
Telemarker: Paolo Marazzi, mostly traveling with Giuliano Bordoni, has followed the footsteps of his older brother and has specialized in telemark skiing over the years. Part of the international Arcteryx team, Paolo has tackled several first descents in the Alps. website: http://www.arcteryx.com/Athlete.aspx?EN/PaoloMarazzi
Local rider: Jacopo Thomain, snowboard instructor in Courmayeur, versatile and with a unique style, will complete the all round ability of this team as freestyle specialist.
TEAM LOUIS GARNIER
Photographer: Louis Garnier, is a young and talented photographer from France. His photography style is rich of technique and disorder at the same time. Photographer of the French scene, Louis last year won the best action photo and best angle photo at the Nine Knights photo contest in Livigno. In addition to snow, Louis enjoys every type of photography, from portraits to outdoor.
website: http://www.louisgarnier.com
Skier: Arnaud Rougier is well known around the world with video parts in the award-winning movies from Level 1 Productions. He continues to film backcountry and freeride lines with the best French movie productions, including PVS. Arnaud is a skier with great experience, he will support Louis to realize great images.
Snowboarder: Anouck Grau, a young French snowboarder, will support Louis with her style and her innovative ideas. Already famous on the world wide web for the acclaimed summer runs she did in her bikini on the glacier, Anouck will bring some originality at COTM 2013.
Local Rider: Martino Valle, freeskier, born in Courmayeur. He is a ski instructor with experience and lot of versatility in any situation. He will be the local who will support the French team.
TEAM ALESSANDRO BELLUSCIO
Photographer: Alessandro Belluscio, Italian photographer, has been published in many international magazines. His main subject is usually freeskiing, but he also likes other assignments with action inside. With the "excuse" of working, he travels all around the world searching for new shots. He already participated at COTM in the previous editions.
website: http://www.alessandrobelluscio.com
Skier:
Sebastian Huber, Austrian freerider, complete and versatile – recently he focused more and more on sidecountry skiing, searching the best snow available in our lovely Alps. In addition to search the powder into recesses, Basti is involved in several freeski projects, including the coordination of the new international and award-winning video production
JOB – Junkies on a Budget
and the management of the
Fischer Freeski Team.
video: http://vimeo.com/31261454
Skier: Matthias Fabbro was one of the first Italian newschoolers. Vice President of VitaminF freeski club, Matthias has been a freestyler for more than a decade. He grew up as a pure freestyler, but recently he showed great skills in backcountry and freeriding. He is the man behind the renowned and recognized SpringGINGERLE Invitational – international event organized in Kronplatz – South Tylor.
website: http://matthiasfabbro.blogspot.it/
Local Rider: Giacomo Perri, local snowboard instructor from Courmayeur, a freerider since the beginning. Very familiar with the mountains around his house, Giacomo recently conveyed his passion in the FWQ circuit. He was the opener of the Courmayeur stop of FWT and received a lot of compliments from all the athletes for his style and his line.